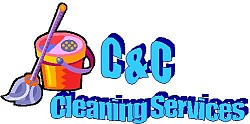 C & C Cleaning Services
Main Services:

Residential and Commercial Cleaning, Window Cleaning, Carpet Cleaning

Years In Business:

5 years experience

Company Overview:

C & C Cleaning Services is a family owned and operated business that has been servicing homeowners and businesses in the Wilmington area for years. We are a full service cleaning company who specializes in residential and commercial cleaning. We are also available for window and carpet cleaning. Some of our services include: Move-In, Move-Out, Make Ready, Weekly, Bi-Weekly, Monthly, Pre Sale Cleaning, One Time Cleaning, Window Cleaning, Carpet Cleaning, Kitchen & Bathroom Cleaning, Vacuuming,Dusting,Mopping, interior painting, and a whole lot more. Our company is based on the belief that our customers\' satisfaction is of the utmost importance. There are a lot of choices for cleaning out there. If you\'re looking for a consistent, trustworthy, cleaner who will do the job right, call us today. Our belief is \"IT\'S GOOD AND CLEAN\". We are licensed and insured. We are licensed in Delaware and Penns. Evening hours and Saturdays can be arranged. Senior and Military discounts, FREE ESTIMATES.